Thermal Test of 2D Materials
Two-dimensional (2D) materials, particularly graphene and hexagonal boron nitride (h-BN), have exceptional thermal characteristics as well as atomic-level thinness and mechanical flexibility. As a result, 2D materials should be able to address the rising issue of heat dissipation in electrical and optoelectronic devices. There has been a lot of research into the creation of thermal interface materials based on 2D materials with the appropriate thermal characteristics.
Alfa Chemistry is the world's leading manufacturer of innovative 2D materials. We provide thermal testing services for 2D materials in addition to the large assortment of graphene and other 2D nanomaterials available on our website. You may rely on our team of experts to deliver the exact thermal parameters you need to improve your 2D materials research.
Learn About Our Services
Alfa Chemistry provides thermal testing services to researchers and manufacturers of 2D materials. We use a number of methods, such as Raman, to measure thermal conductivity and interfacial thermal resistance on a wide range of 2D material fibers. Our laboratory tools are calibrated to meet or surpass the constantly evolving quality and accuracy requirements for testing 2D advanced nanomaterials.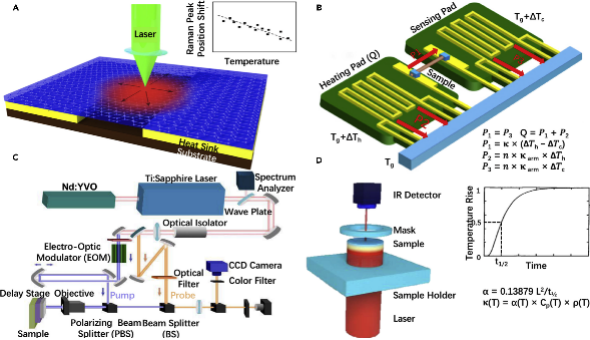 Fig 1. Scheme of Setups for Different Thermal Measurements. (A) Optothermal Raman method. (B) Suspended-pad method. (C) Time-domain thermoreflectance (TDTR) method. (D) Laser flash method. Methods in (A) and (B) are steady-state methods, while those in (C) and (D) are transient methods. (Song H, et al. 2018)
We employ a number of thermal measuring techniques to deliver precise thermal parameters for freestanding or supported 2D materials with thicknesses up to tens of microns and temperatures ranging from ambient temperature to 77K.
| | |
| --- | --- |
| Testing Services | Thermal Test of 2D Materials |
| Testing Content | Thermal Conductivity (κ); Interface Thermal Resistance (Rth) |
| Sample | Free Standing/Suspended or Supported 2D Materials |
| Test Method | Optothermal Raman method, Suspended-pad method, Time-domain thermoreflectance method, Laser flash method. |
| Temperature Range | Room Temperature, or Room Temperature to 77K |
| Lead Time | 2~4 Weeks |
Our requirements for samples are as follows:
Thickness: ~ tens of nanometers to sub-nanometer thickness
Size: >3 microns to support 2D materials; >6 microns for freestanding/suspended 2D materials
Quantity: 2 samples
Note:
Test results are provided for informational purposes only and may differ from sample to sample.
The time it takes to go from room temperature to 77K is usually rather long.
All samples are non-returnable; if you have any specific demands, please contact us.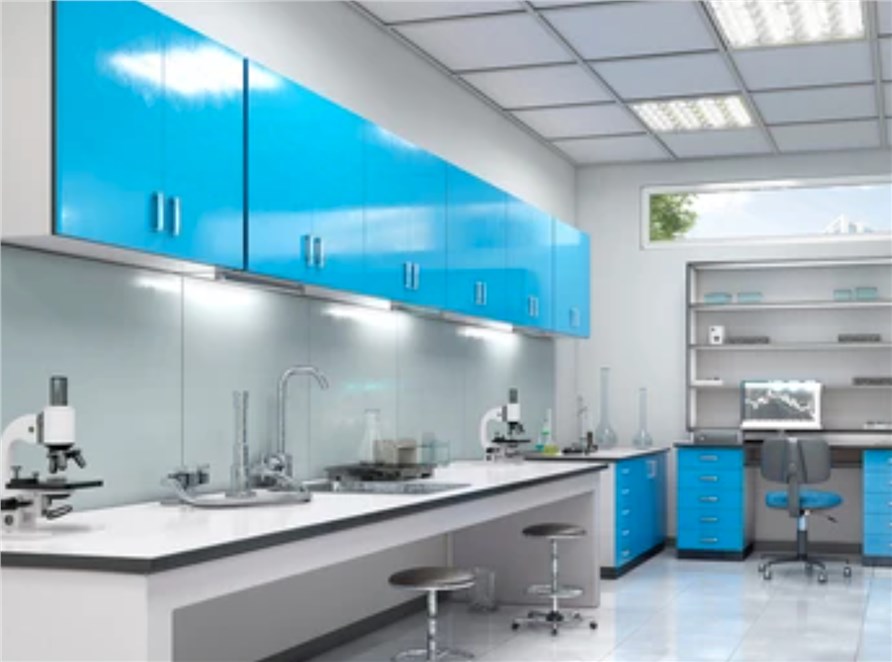 Please contact our team if you have any special testing requirements or sample inquiries so that we may explore how we might satisfy your needs.
Why Us
In our cutting-edge laboratory, Alfa Chemistry provides advanced 2D materials and thermal testing services. Leaders in manufacturing and research throughout the world rely on us to deliver high-quality products and testing services. We take pleasure in staying on the cutting edge of 2D material development. Our thermal testing is cost-effective, and our turnaround times are among the best in the industry. Visit Alfa Chemistry for the most up-to-date information about 2D nanomaterials. To learn more about our 2D materials thermal testing services, contact our staff now.
Reference
Song H, et al. (2018). "Two-Dimensional Materials for Thermal Management Applications." Joule. 2(3): 442-463.
Our Advantages
High Quality
Cost-Effective
Hassle-Free
Cost-Effective
Alfa Chemistry provides cost effective, high quality and hassle free services to our clients worldwide. We guarantee on-time delivery of our results.
If you have any questions at any time during this process, please contact us. We will do our best to meet your needs.
Please kindly note that our products are for research use only.