Photonic and Optoelectronic Applications of 2D Materials
Many photonic and optoelectronic applications, such as saturable absorbers, photodetectors, ultrathin lenses, photodetectors, and quantum photonic devices, are made possible by the unique physical features of two-dimensional (2D) materials. Alfa chemistry tailors solutions for applications using 2D materials. Due to the increased demand for miniaturized devices, dimensionality reduction of devices on a chip has been particularly intensively studied. Optical modification methods for 2D materials are a good option since they are a quick and inexpensive approach to making a variety of on-chip photonic and optoelectronic devices. Please get in touch with us right away so that we can assist you with your application study.
Polarizers and Absorbers
Due to the engineering involved in their manufacture, conventional materials for ultra-thin polarizers are difficult to use, resulting in poor extinction ratios and inefficient performance. Alfa Chemistry's 2D materials provide substantial advantages in overcoming these factors. We also leverage optical alterations to give a high-precision technique that can be applied to isolated components as well as larger systems in general. Laser modification of 2D materials can overcome the material limits of thin polarizers and absorbers, giving integrated photonic circuits a universal local modification approach.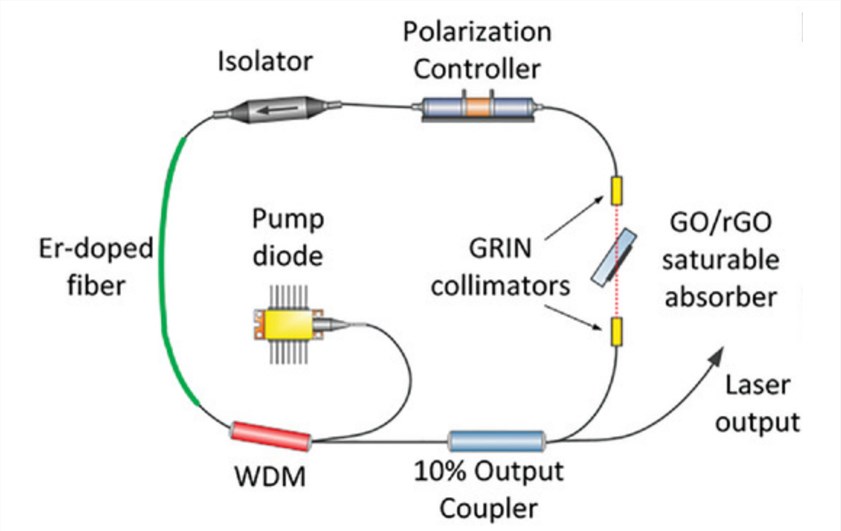 Fig 1. Laser-reduced GO saturable absorber in a mode-locked laser setup. (Sobon G, et al. 2012)
Photodetectors
The continuous development of innovative photodetectors with a wide spectral range could be aided by 2D materials and their 2D heterostructures. They have a wide range of tunability and distinctive features due to their dominance in surface chemistry.
Alfa Chemistry can generate heterostructures without the use of multilayer transfers by using optically modified procedures. Photodetectors made of optically modified 2D materials outperform photodetectors made of traditional materials. Local laser oxidation of In2Se3 produces lateral In2Se3-In2O3 heterostructured photodetectors that exceed most new 2D material photodetectors by several orders of magnitude and reach the performance of state-of-the-art silicon-based photodetectors, for example. The intrinsic band shift of the heterojunction and the formation of a localized charge depletion layer are responsible for the high detection rate.
Ultrathin Lenses
Ultra-thin lenses are well suited for micro-broadband applications. However, standard ultra-thin lenses have performance limitations due to chemical and thermal instabilities, and reducing them to monolayer thickness can result in lower modulation efficiency.
As Alfa Chemistry's solution to these challenges, 2D materials combined with optically modified methods provide stable lens media. GO's laser reduction can be used to create scattering patterns that overcome modulation inefficiencies. Optically modified 2D material ultra-thin lenses improve nearly every aspect of photonic systems while allowing for more complicated applications like particle micro tracking.

Fig 2. Broadband subdiffraction focusing working principle and the focal spot radii of yellow, green, and blue light shone through a TMD-based ultrathin lens. (Qin F, et al. 2021)
Quantum Applications
Due to their intense light-matter interactions and simplicity of integration into circuits, quantum light sources based on 2D materials have been extensively studied. Alfa Chemistry is developing hBN-based quantum light sources, using a production approach that involves laser tuning of laser-induced phase transitions and photochemical reactions. This quantum emitter produces single-photon emission at room temperature, which is equivalent to other innovative quantum light sources based on 2D materials. Other optical modification techniques, such as strain, can also cause quantum phenomena like spin defects.
References
Sobon G, et al. (2012). "Graphene Oxide vs. Reduced Graphene Oxide as Saturable Absorbers for Er-Doped Passively Mode-Locked Fiber Laser." Opt. Express. 20(17): 19463-19473.
Qin F, et al. (2021). "pi-Phase Modulated Monolayer Supercritical lens." Nat. Commun. 12(1): 32.
Our Advantages
High Quality
Cost-Effective
Hassle-Free
Cost-Effective
Alfa Chemistry provides cost effective, high quality and hassle free services to our clients worldwide. We guarantee on-time delivery of our results.
If you have any questions at any time during this process, please contact us. We will do our best to meet your needs.
Please kindly note that our products are for research use only.