Mechanical Testing of 2D Materials
For decades, two-dimensional (2D) materials have dominated nanoscience. Mechanical characterization of 2D crystals, both non-in situ and in situ, can help us understand and quantify their mechanical characteristics, which are important in both basic research and practical engineering.
Alfa Chemistry has invested much in the theoretical and experimental mechanics of 2D materials, with the goal of exposing mechanical behavior and measuring mechanical features. We can give mechanical properties and behavioral research based on 2D crystals using a variety of experimental methodologies for mechanically characterizing 2D materials.
Why Choose Us
The mechanical stability of each 2D material is crucial for producing products like flexible electronics and energy storage systems to function properly. Mechanical research of 2D materials can disclose their distinctive mechanical behavior as well as estimate their service life in various applications.
Alfa Chemistry focuses on assisting clients in revealing the mechanical behavior of their 2D materials and quantifying mechanical parameters such as modulus of elasticity, fracture strength, and fracture toughness. Different methodologies are also used to determine fracture work, sliding friction, and interfacial adhesion.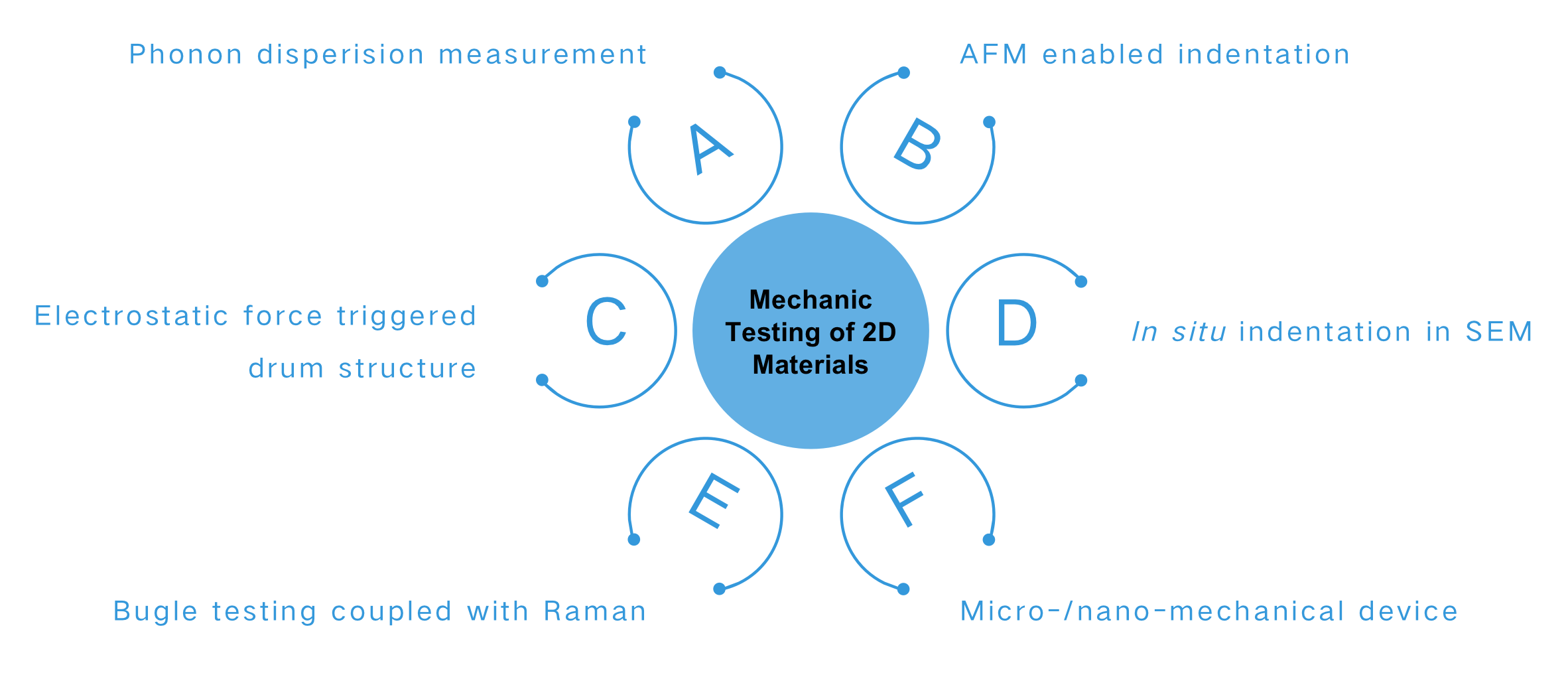 To visualize the mechanical behavior and quantify the mechanical properties of 2D materials such as monolayer and multilayer graphene, MoS2, h -BN, and other emerging 2D structures, we developed experimental techniques such as atomic force microscopy (AFM) enabled nanoindentation, tensile testing, pressurized swelling testing, and phonon dispersion measurements.
Mechanical Testing Techniques
Alfa Chemistry's mechanical peeling and liquid dispersion methods make it simple to make 2D crystals with single, double, triple, and multiple nanometer thicknesses, allowing researchers to investigate the relationship between mechanical properties and thickness, interfacial sliding, and other factors.
We have extensively employed AFM-enabled nanoindentation to investigate 2D materials. The wet transfer is a typical method for putting mechanically stripped and CVD-grown materials into holes up to 9 m in diameter. This arrangement has exact boundary conditions and requires no extra substrate requirements. By accurately regulating the tip location on the test film and watching the fracture during indentation, an in-situ indentation in the SEM will complement AFM-enabled nanoindentation testing.

Fig 1. The estimated pretension from nanoindentation experiments. (a) Summary of typical pretension ranges for various 2D materials. (b) Experimental data of 2D modulus and pretension for various 2D layers and heterostructures. (Androulidakis C, et al. 2018)
Micromechanics-assisted in-situ tensile testing allows for consistent in-plane loading on individual membranes, which aids in the determination of intrinsic mechanical characteristics of two-dimensional materials.
Swelling tests, electrostatic force-driven drum structures, and phonon dispersion experiments all monitor pressure, voltage, and lattice vibrations rather than collecting loads and displacements directly. The mechanical characteristics of the tested 2D material will be determined using these parameters. A high-speed camera can be used to see the fracture expansion.
You didn't find what you were looking for? We can deliver unique solutions because of our wide skill set. Please get in touch withus to discuss your needs.
Reference
Androulidakis C, et al. (2018). "Tailoring the Mechanical Properties of 2D Materials and Heterostructures." 2D Mater. 5: 032005.
Our Advantages
High Quality
Cost-Effective
Hassle-Free
Cost-Effective
Alfa Chemistry provides cost effective, high quality and hassle free services to our clients worldwide. We guarantee on-time delivery of our results.
If you have any questions at any time during this process, please contact us. We will do our best to meet your needs.
Please kindly note that our products are for research use only.