Bioimaging Based on 2D Materials
Bioimaging is a field of study that uses the optical properties of materials to observe and monitor biological processes in research and therapeutic settings. This is especially crucial in therapeutic diagnostics to ensure that tissues are correctly identified before treatment begins. Due to their excellent properties such as atomically thin structure, wide surface area, abundance of chemically active sites, large number of surface contacts, and quantum confinement effects, two-dimensional (2D) materials are also heavily investigated as potential metal-free candidates in various bioimaging modalities. Alfa Chemistry can create customized 2D material solutions for our customers' purposes. Please contact us right away if you require support with your bioimaging research.
Surface and Structural Engineering of 2D Materials
Organic dye molecules are utilized as probes because to their high quantum efficiency, yet they are photobleachable, necessitating the adoption of alternate approaches. The future of bioimaging is being reshaped by a rapidly growing family of 2D materials with unique optoelectronic features. Precision control of 2D material surface chemistry is critical for biomedical applications to meet high standards. Alfa Chemistry demonstrates our one-of-a-kind engineering approach.
Surface Functionalization
Surface functionalization can be used to confer multifunctional capabilities such as stability and biocompatibility. Because of their lack of targeting capabilities, primitive 2D materials are rarely used in biological applications. Colloidal stability and biocompatibility for biomedical applications have been generally recognized as a result of functionalization techniques.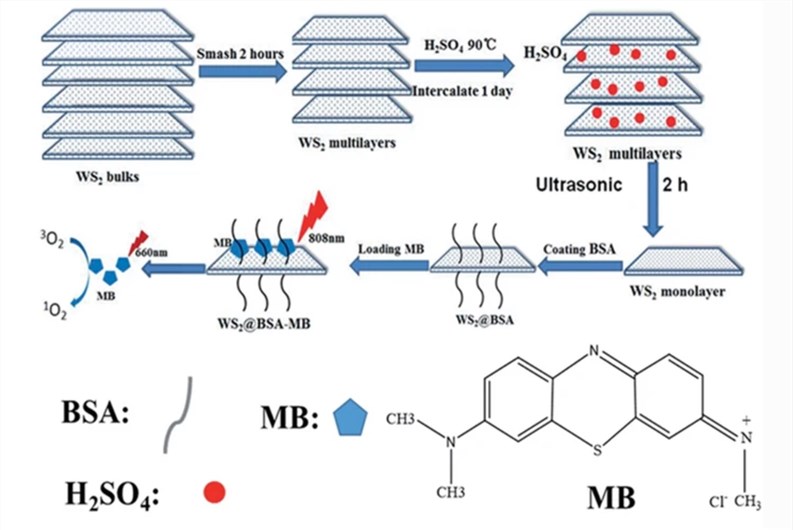 Fig 1. Synthesis procedure of WS2 nanosheets and their application as a multifunctional photosensitizer delivery system. (Yong Y, et al. 2014)
Because of their remarkable physical features, atomically thin BPs have gotten a lot of interest. The low air stability of BP is owing to non-bonded lone pairs of electrons on its surface P atoms, which produce compositional and physical changes. This is a major hurdle to its utilization. Alfa Chemistry has taken numerous steps to improve the stability of BP, including the use of lanthanide element sulfonate complexes, titanosulfonate ligands, and alkyl halides, to name a few. In comparison to bare BP, functionalized BP has exceptional stability in air and during water dispersion.
Defect and Strain Engineering
The existence of defect states in 2D materials has been shown to boost catalytic activity, optical properties of layered materials. Intrinsic defects (vacancies, active edge sites, etc.) and dopants can be used to engineer flaws (metal dopants, heteroatomic dopants, etc.). Electron or ion irradiation, plasma therapy, and heat treatment are commonly used to introduce crystal defects into 2D materials. Controllable defect density and distribution can be achieved using a focused ion beam (FIB).
2D Materials Solution
Computed Tomography Imaging (CT)
CT imaging is one of the most widely used techniques for reconstructing cross-sectional images using the contrast difference between lesion and tissue. Because of their high atomic number of elements and outstanding X-ray attenuation, TMD and MXenes are ideal candidates for CT imaging among the family of 2D laminates.
The modified BP nanosheets were developed by π - π stacking strategy to show excellent in vivo PA imaging signals in tumors.
The BSA-coated WS2 and polyethylene glycolized MoS2 /Bi2S3 also exhibit strong X-ray attenuation, providing sensitive CT imaging capabilities.
The SP-modified Ti3C2 nanosheets exhibit high PA signals under 808 nm light irradiation, providing high biosafety CT imaging capabilities.
Positron Emission Computed Tomography (PET)
PET is another imaging technique based on the detection of gamma rays by introducing a radioactive tracer into the body. Several engineered 2D materials such as graphene derivatives and TMDs can be used as key contrast agents. The presence of heavy elements and higher PET conversion efficiency make multifunctional 2D lamellar materials a latecomer in PET imaging, respectively.
The hyaluronic acid (HLA) and polyethyleneimine (PEI) modified MoS2 multifunctional nanoplatform for PET imaging of MCF-7-ADR tumors in mice.
The 66Ga-labeled PEG-linked nGO enables tumor-targeted PET imaging.
You didn't find what you were looking for? We can deliver unique solutions because of our wide skill set. Please get in touch with us to discuss your needs.
Reference
Yong Y, et al. (2014). "WS2 Nanosheet as A New Photosensitizer Carrier for Combined Photodynamic and Photothermal Therapy of Cancer Cells." Nanoscale. 6(17): 10394.
Our Advantages
High Quality
Cost-Effective
Hassle-Free
Cost-Effective
Alfa Chemistry provides cost effective, high quality and hassle free services to our clients worldwide. We guarantee on-time delivery of our results.
If you have any questions at any time during this process, please contact us. We will do our best to meet your needs.
Please kindly note that our products are for research use only.