Bio and Ecological Applications of 2D Materials
Advances in technology and medicine have improved people's lives significantly, but they have also created new societal difficulties such as antibiotic-resistant bacteria and environmental concerns. Some of these issues can be addressed by developing applications for oil-water separation, fog collecting, and surface sterilizing using the optical alteration of two-dimensional (2D) materials. Alfa Chemistry "tailors" solutions for applications using 2D materials. Please get in touch with us right away so that we can assist you with your application research.
Moisture Collection
Organisms in dry climates maximize their water-harvesting efficiency by developing droplet-collecting surfaces. A similar surface structure can be used by us for fog collection, which combines laser etching and ultrasonic vibration of a polydimethylsiloxane (PDMS)/graphene mixture on copper grids. In addition, we can adjust the wettability of the graphene surface by temperature, thereby realizing a controllable water-harvesting device.
Fig 1. Schematic of optical fabrication of superhydrophobic surfaces for fog collection and oil-water separation. (Yu Z.P, et al. 2019)
Oil-Water Separation
The use of 2D materials in membrane technology for oil-water separation applications has attracted significant attention because of the tunability of these materials. Nano/micron materials are of interest in environmental remediation due to their high surface-to-volume ratio and absorption capacity, which leads to higher adsorption or catalytic performance. However, they are difficult to use alone due to mass production, high product cost, and accidental leakage. To improve the strength and compensate for the weaknesses of nano/micron materials, Alfa Chemistry produces 2D and 3D blocks loaded with nano/micron materials for oil-water separation.
Antibacterial Surfaces
Antibiotic-resistant bacteria are becoming more common. We used optical modifications of 2D materials to provide more favorable applications. Laser-induced photosynthesis of graphene and its composites produces antimicrobial surfaces capable of inhibiting the spread of bacteria in public spaces. Microorganisms have been demonstrated to be inhibited by the roughness and subsequent hydrophobicity of graphene surfaces generated by laser-induced photochemical techniques.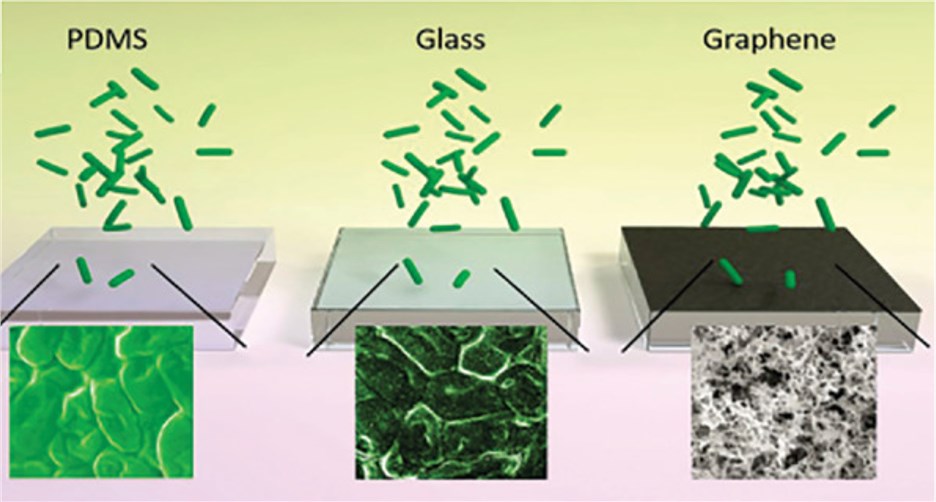 Fig 2. Growth of bacterial cultures on PDMS, glass, and laser-induced graphene surfaces. (Jiang N, et al. 2020)
Biocompatible Devices
Biocompatibility is essential for bioelectronics development. Despite the fact that 2D materials are often non-toxic, the body may reject them as foreign. Alfa Chemistry can overcome this by coating the surface of 2D materials with biocompatible molecules, such as proteins. The chemical activation properties of the crystalline surfaces of 2D materials utilized for protein adhesion are improved by laser-induced oxidation in graphene, for example.
Please Contact Us
Finding the best material for a customer's specific application is the ultimate goal of Alfa Chemistry. Of course, there is the opposite: when researchers discover new material, they want to know all the possible applications for which this material holds promise. Alfa Chemistry can help you with all of these questions. You didn't find what you were looking for? We can deliver unique solutions because of our wide skill set. Please get in touch with us to discuss your needs.
References
Yu Z.P, et al. (2019). "Self-Healing Structured Graphene Surface with Reversible Wettability for Oil-Water Separation." ACS Appl. Nano Mater. 2(3): 1505-1515.
Jiang N, et al. (2020). "Additive Manufactured Graphene Coating with Synergistic Photothermal and Superhydrophobic Effects for Bactericidal Applications." Global Challenges. 4(1): 1900054.
Our Advantages
High Quality
Cost-Effective
Hassle-Free
Cost-Effective
Alfa Chemistry provides cost effective, high quality and hassle free services to our clients worldwide. We guarantee on-time delivery of our results.
If you have any questions at any time during this process, please contact us. We will do our best to meet your needs.
Please kindly note that our products are for research use only.