2D Material Layer Transfer Service
Alfa Chemistry has focused on large-scale transfer of two-dimensional (2D) material monolayers to selected substrates since 2D materials provide significant promise for scientific advances and technological innovation. We have developed multiple innovative, scalable transfer methods for other 2D monolayers onto customer-specified substrates made of virtually any material, such as large-area h-BN, graphene, MoS2, MoSe2, WS2. Please contact us right away if you need assistance with 2D material layer transfers.
Why 2D Material Layer Transfer
Large-area growth techniques for 2D materials, such as physical vapor deposition (PVD), chemical vapor deposition (CVD), and metal organic chemical vapor deposition (MOCVD), have made significant progress in recent years. However, high growth temperatures, the usage of chemically active growth precursors and accelerators, and the requirement for epitaxy all limit the direct growth of 2D materials on commercial substrates. Therefore, this requires the use of suitable methods for transferring 2D material from the growth substrate layer to a substrate with varying degrees of cleanliness, uniformity, and transfer-related damage for the target application.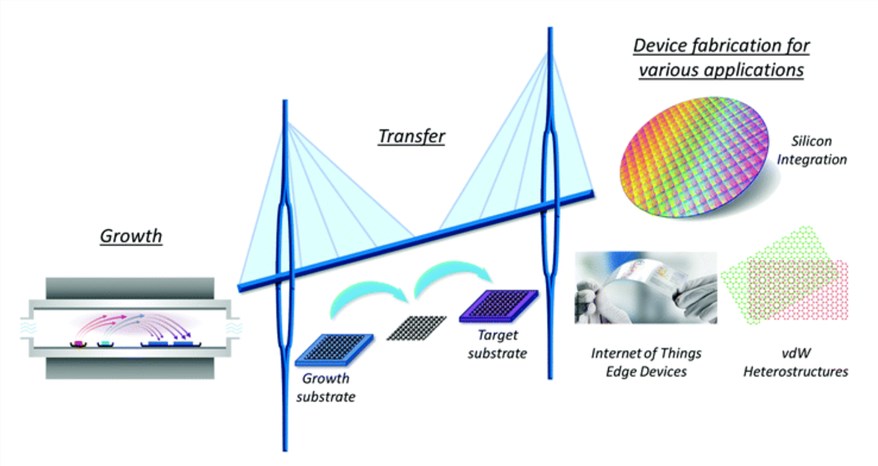 Fig 1. Overview of the process flow necessary for the implementation of 2D materials in commercial applications. To bridge the gap between the large area growth of 2D materials and fabrication of 2D devices for various potential applications, clean, uniform, and damage-free transfer of 2D materials from growth substrates to suitable target substrates must be developed. (Schranghamer T. F, et al. 2021)
What We Do
Alfa Chemistry can transfer any 2D layer material to any substrate that the user specifies. We ask that you choose your substrate and send extras so that we can test and give you high-quality samples. Polymer assisted transfer methods, chemical etchant assisted wet transfer methods, etchant free wet transfer methods, polymer free transfer methods, water soluble layer transfer methods are just some of the polymer assisted transfer methods we provide for 2D materials layer transfer.
To preserve the 2D layers clean and unmodified, our team applies incredibly careful methods and processes. Our method is carried out in an ultra-pure environment to ensure that material quality is preserved.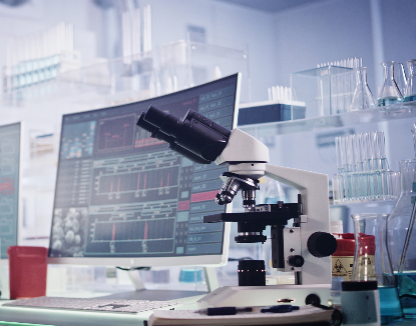 Polymer stamping and/or chemical operations are required for the transfer process. However, if you choose to transfer full-area monolayers, they will still be massive. There may be some folding and wrinkling effects, which is normal. If your monolayer is luminous, following the transfer, the optical characteristics will be similar to photoluminescence (PL) emission at the same wavelength.
All transferred items, however, are final and non-refundable due to the unique nature of the production process.
To date, we've transferred SiO2/Si, sapphire, polymers, various 2D materials, glass, TEM grids, metals, Bragg reflectors, and plasma structures to a variety of substrates. Processing time is determined by your project, preferred chemistry, and sample production needs. It takes roughly 1-3 weeks on average. Please indicate the desired substrate, the 2D material required, and any additional requirements/suggestions when obtaining a formal estimate.
Reference
Schranghamer T. F, et al. (2021). "Review and Comparison of Layer Transfer Methods for Two-Dimensional Materials for Emerging Applications." Chem. Soc. Rev. 50: 11032-11054.
Our Advantages
High Quality
Cost-Effective
Hassle-Free
Cost-Effective
Alfa Chemistry provides cost effective, high quality and hassle free services to our clients worldwide. We guarantee on-time delivery of our results.
If you have any questions at any time during this process, please contact us. We will do our best to meet your needs.
Please kindly note that our products are for research use only.